St. Louis - April 21-22, 2017 - Friday 8:30am - 6:00pm/Saturday 8:30am - 5:00pm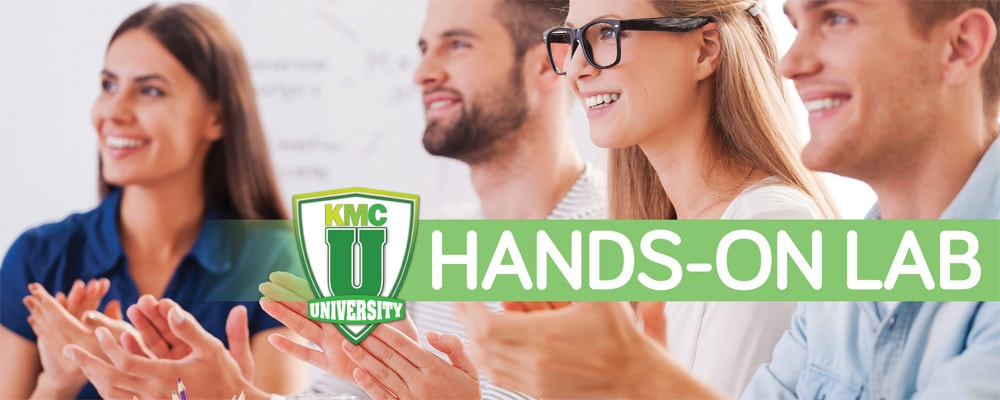 Our two-day interactive training puts more money in your pocket, streamlines your systems, and helps you help more patients.
The Hands-On Lab is not a sit-down yawn of a seminar!
Interactive and information-packed, it's an experience previous attendees tell us is like no other. Our participants love the deep dive into the materials and the benefit of active Q & A and small group work, all designed so that they can transform their practice the following Monday morning.
Interactive, multi-modal learning!
Participants will be engaged in multi-modal learning through review of individual patient charts, hands-on auditing, interactive Q & A, and team exercises. If your state participates, you can also earn 12 CEUs!*
Attend for only $1197!
This event is $1197 for you - the doctor - and one member of your team, additional team members are $129 per person. (travel expenses not included).
KMC University member pricing: $957.60 per office (doctor plus one team member), additional team members are $129 per person. Want to become a KMC University Library member? Find out more!
Member Discounts = 20% discount off of full price for our KMC University Library members and 35% for PhD members!
Hands-On Lab will sell out fast!
So please, register by filling out the form below, or call us at (855) 832-6562 to get your seats for our biggest event of the year! Once you're registered, we'll send you a link to reserve your room at the beautiful Drury St. Louis at the Arch at the $154 rate we negotiated for the workshop! (Room rate applicable for April 20, 21, and 22.)
Want more details? Click here to download the 2017 Hands-On Lab Itinerary!
Already registered? Book your hotel room(s) soon!
Once you've called and registered for Hands-On Lab, don't forget to book your hotel room(s)! NOTE: The room block we set aside for Hands-On Lab attendees will be released to the general public on April 1. You can still get our $154/night room rate for April 20, 21, and 22. You may try the hotel link, but you may need to call the hotel directly after April 1 to secure your rooms at the $154 rate.
*CEUs applied for in the following states: Alaska, Idaho, Illinois, Iowa, Kansas, Maine, Maryland, Massachusetts, Minnesota, Missouri, Montana, Nebraska, Nevada, New Jersey, North Carolina, North Dakota, Nova Scotia, Ohio, Oregon, Puerto Rico, Rhode Island, South Carolina, South Dakota, Utah, Vermont, Virginia, Wyoming.
| | |
| --- | --- |
| Ready to register? Submit your contact details below and we'll call you to confirm! |   |